President Lungu Of Zambia Host Victorious Under-20 Players Says They Have Brought Joy And Great Honor to the nation
President Edgar Lungu says the victory of the Zambia under-20 is a demonstration that in unity the country has the power to rise above all social, political and economic divides.
Speaking during the luncheon hosted in honor of the victorious under-20 national soccer team at State house this afternoon, President Lungu says the players have brought joy and great honor to the nation at a time when the country truly needs to be united than never before.
He says this is because some people have not recovered from the acrimony of campaigns which nearly destroyed the country.
President Lungu notes that Zambians cheered the team in unity regardless of tribe, political affiliation, color or religion.
He says this epitomized the unity that has existed in the country since independence.
And President Lungu says the achievements of the junior Chipolopolo on the football pitch has restored Zambia's image as a great footballing nation.
President Lungu further states that the victory has revitalized the memory of the world of Zambia as one of the greatest footballing nations in Africa following the 2012 AFCON triumph by the senior national soccer team in Gabon.
The Head of State has however, cautioned the players to be weary of social temptations that come with their new acquired status and against rushing into signing professional contracts without consulting.
Below is the full speech
YOUR EXCELLENCY DR KENNETH KAUNDA, FIRST PRESIDENT OF THE REPUBLIC OF ZAMBIA;
MY LADY JUSTICE, MRS IREEN MAMBILIMA, THE CHIEF JUSTICE;
MR DAVIS MWILA, THE SECRETARY GENERAL OF THE PATRIOTIC FRONT PARTY;
HON CATHERINE NAMUGALA, FIRST DEPUTY SPEAKER OF THE NATIONAL ASSEMBLY;
HON MOSES MAWERE, MP, MINISTER OF YOUTH, SPORT AND CHILD DEVELOPMENT;
CABINET MINISTERS PRESENT;
MEMBER OF THE DIPLOMATIC CORPS ACCREDITED TO THE REPUBLIC OF ZAMBIA;
SENIOR GOVERNMENT OFFICIALS;
FOOTBALL ASSOCIATION OF ZAMBIA EXECUTIVE MEMBERS PRESENT;
THE UNDER 20 NATIONAL FOOTBALL TEAM TECHNICAL BENCH;
THE VICTORIOUS UNDER 20 NATIONAL FOOTBALL TEAM;
ALL INVITED DISTINGUISHED GUESTS;
MEMBERS OF THE PRESS;
LADIES AND GENTLEMEN.

On behalf of the government and the people of the republic of Zambia and indeed on my own behalf, i am greatly delighted to host our gallant and victorious young Chipolopolo national football team which has made our country proud and put smiles on the faces of all Zambians.
I am extremely grateful to Jehovah god for giving us this historical victory through our young men. We are all happy and fully satisfied with the team's outstanding performance in the just ended 21st edition of the under-20 Africa cup of nations tournament.
Let me take this opportunity to congratulate our young footballers for winning the cup. Your tireless efforts and zeal to secure this cup is highly commendable and it is no mean achievement.
Your achievement of reaching the finals of the tournament and winning the cup is a significant milestone that has gone down not only in our annals but also in the history of African football.
You represented our country in a manner that a true patriot and gallant soldier of the land would proudly do.
I am happy to note that since the tournament began, you have been consistent and exemplary ambassadors of peace and prosperity in line with my government's core values.
As your republican president, and patron of the football association, my heart beams with pride to host you. Your achievements on the football pitch has restored our image-as a great footballing nation.
It is gratifying that after the 2012 victory by the senior national football team in the AFCON tournament in Gabon, we have once more conquered Africa in football and this time at youth level.
We have revitalised the memory of the world as one of the greatest footballing nations in Africa. I know the world also remembers Zambia for its splendid performance during the 1988 South Korea Olympic games.
Ladies and gentlemen
The victory and the perfect hosting of the under 20 Africa cup of nations (AFCON) deserve to be commended by all Zambians. We worked together in one spirit under our motto "one Zambia one Nation". This is indeed a spirit which we always preach and we shall continue with the same spirit under my leadership.
In unity we have power as a nation to rise above all social, political and economic divides like a noble eagle in its flight.
Our champions, the young Chipolopolo, you have brought joy and great honour to our nation at a time when our country needs to be united like never before. Your success is priceless.
As you represented the country in the last two weeks in the just ended tournament, Zambians were not looking at each other based on their tribe, political affiliation, colour and religion. We all cheered in unison epitomising the unity that has existed in our country since independence. This is who we are and no one can take it away from us.
My government through the ministry of sports will continue to provide financial support towards football development and other sports disciplines. This is in line with our 2009 national sports policy that promotes international participation in sport for skills development of our athletes, coaches and sportspersons.
We will also continue to tap talent from the young people from across the country through the promotion of talent identification programmes in order to build sport.
My government believes that in order for our country to progress in sport, there is need to ensure participation of our young men and women in exchange programmes, regional and continental sport events, as this builds the confidence of our sportspersons.
As you prepare for the 2017 under 20 world cup in south korea, i wish to reassure you that my government will provide you with all the necessary support needed for you to be successful.
Ladies and gentlemen,
I wish to also note that your achievement has made all of you household names and this comes with social temptations. My prayer is that all of you will fulfil your football dreams.
Please don't rush into signing contracts that are being dangled on you but seek advice from your clubs, guardians, parents and managers.
Your achievement is just the beginning of a long football journey—the future is in your hands. Keep away from social vices that can hinder you from realising your football dreams.
As you embark on your preparations for the world cup, i wish you all the very best.
I urge the Football Association of Zambia, the clubs, academies, coaches, parents, guardians and the business community, to continue supporting these boys and create more future stars not only in football, but also in other sports as well.
Ladies and gentlemen
I wish to also thank the minister of youth, sport and child development for leading a formidable team that worked tirelessly to put in place all necessary human, financial and material needs that the Confederation of African Football (CAF) demanded for our country to successfully host the event.
Special tribute goes to the local organising committee led by president of the football association of Zambia Mr. Andrew Kamanga. Once more, the unity of purpose was a key catalyst which enabled you to deliver.
In conclusion, let me take this opportunity to appeal to all stakeholders to support our champions in their world cup preparations and during the tournament itself scheduled for South Korea in May.
I wish to promise you and on behalf of all the other well wishers that we will render our unwavering support to your football career.
MAY GOD BLESS OUR YOUNG CHIPOLOPOLO AND OUR GREAT NATION, ZAMBIA!
Pastor Arrested For Impregnating His 14 Years Old Niece
Police in Petauke are holding a 32-year-old Baptist Church pastor for allegedly defiling and impregnating his 14-year-old niece.
Eastern Province police commissioner Alex Chilufya said the pastor, Masautso Mwanza, is said to have committed the offence in June this year.
"Petauke police are holding a pastor named Masautso Mwanza, aged 32, of Baptist Church, in the case of defilement of a minor, whereby he defiled and impregnated his niece, aged 14yrs, of the same abode. This occurred in June 2017 in Petauke. The suspect is in police custody helping with investigations," Chilufya said.
And Chilufya said a 10-year-old girl drowned in Lunkuswe river in Chipata.
"This matter was reported by Thomas Njobvu of Chaola farms, chief Chikuwe in Chipata district that his daughter Falace Njobvu aged 10 of the same abode drowned and died in Lunkuswe river in Mbenjere area near Eastern Girls Secondary school. This occurred on 22 September 2017 at 10:30 hours at Lunkuswe River in Mbenjere," he said.
Chilufya said the body was retrieved by Fire Brigade and inspected by the police and it had no injuries.
He also said a seven-year-old boy drowned in Mambwe while swimming with friends.
"Mambwe drowning incident; reported by Patrick Zimba aged 47 of village Chipumba, chief Jumbe, Mambwe, a peasant farmer, that his grandson Dalitso Phiri aged 7 of same abode drowned in Lutembwe stream whilst swimming together with his friends. The body was retrieved and no foul play suspected. This occurred on 22 September 2017 at around 15:30 hours in Lutembwe Stream," said Chilufya.
Four Men Rape A 15 Years Old Girl
Police in Solwezi have opened a docket for a case in which four men allegedly took turns defiling a 15-year-old girl of Mangrade area.
North Western Police Commissioner Auxensio Daka disclosed in a statement yesterday that that the incident happened on Tuesday between 16:00 and 18:00 hours near Solwezi Trades School when the victim used a short cut on her way home.
Daka said the girl's mother reported the matter to police after she complained of general body and vaginal pains.
"The victim was complaining of general body pains and pains also on her genitals and birth canal. When the incident happened, the victim with several other children were following a Mascurate (Likishi) and as she was returning home, she decided to take a short cut alone and that's how she met her fate. The victim is able to identify the suspects as the incident happened during broad day light. She was issued with a medical report form to enable her access examination and treatment," Daka stated.
Daka said the police had opened a docket into the matter despite no arrest had been made so far.
Meanwhile Daka said a 22-year-old man of Rentals Compound in Kabompo district has been arrested for unlawfully wearing an official police uniform.
"The incident happened after the suspects' friend who is a tailor left him in the shop as he went out to buy cotton and whilst gone, the suspect picked a police uniform which had been brought for adjustment and started taking photos in it which he later posted on social media platforms," he stated.
He identified the suspect as Muhanga Leyani.
"Kabompo police last night picked M/ Muhanga Leyani aged 22 years of Rentals Compound in Kabompo Village Sahono in Chief Sikufele, in Kabompo district for the offense of unauthorized wearing of official uniform Contrary to Section 183 (3) Cap 87 of the laws of Zambia.
The incident occurred on Tuesday at around 18:00hrs at Kabompo market, after his friend who is a tailor left him in the shop as he went out to buy cotton and in the process the suspect accessed and put on the Police uniform combat shirt which was left with him for adjustment and had photos which he then posted on Facebook and are now in circulation. Upon interview he admitted having worn the uniform as police is his dream career," said Daka
Zimbabwe – Controversial Dancer Zadwa Wabantu Banned From Performing In Zim
Controversial dancer and Durban socialite Zodwa WaBantu will not be allowed to perform at the Harare International Carnival next week, said the Zimbabwe Censorship Board on Friday.
The Herald in Zimbabwe reports that Censorship Board chairperson and former cabinet minister Aeneas Chigwedere said Zodwa's act had "immoral overtones" and they needed to protect the youth and the community at large.
Yesterday, Zodwa told TshisaLive that she was ready for her trip to the neighbouring country.
"I am ready for my trip to Zimbabwe, as you've seen, I've even posted my gigs on social media. I'll perform at the private club on the September 8 and at the carnival on September 9. I'll be traveling by myself because I don't need a glam squad or anything like that and I am looking forward to it."
She may have to pack her clothes back to her closet, as the country's censorship board said she could not perform.
"I have reserved my comment on this matter, but I might as well make it now. There is no doubt that her appearance is a travesty to our culture. We are told that she will not be wearing a panty. It has some serious immoral overtones. We will not expose our youths to such behaviour," said Chigwedere.
Zimbabwe Home Affairs Minister Ignatius Chombo said government supported the move by the board.
Ibo Fortress In Mozambique Gets A Make-Over To Boost Tourism
The rehabilitation of the São João Baptista Fortress in the Ibo Island district, part of the government's efforts to boost tourism in this part of Cabo Delgado province, will be completed next year.
The announcement was made by Cabo Delgado Celmira da Silva during her presentation of the 2018 Economic and Social Plan and budget to the provincial assembly a few days ago.
The idea is to transform the Fort of São João Baptista do Ibo into a tourist attraction and open up the space for other community and commercial activities.
The government started efforts to finance the rehabilitation works with cooperation partners last year, with the Provincial Directorate of Education and Human Development taking the lead.
Built in 1781 and last restored in 1953, the Fort of São João Baptista do Ibo is the second largest fortification of Mozambique. Star-shaped and located next to the sea, the fortress has interior buildings able to house about 300 men and a chapel, as well as 15 iron cannon.
In addition to the São João Baptista fort, Ibo also has the 1760 Fortim de São José, which it replaced, and the 1847 Santo António do Ibo fort that once defended the local port.
Ibo was elevated to the category of village in 1761 after the detaching of the province of Mozambique from the Portuguese State of India in 1752, thus becoming the first capital of Cabo Delgado.
Its government was installed in 1763, and comprised a municipal council and court.
Ibo saw its economic apogee at the time of the slave trade, whose abolition spelt a slow economic decline that was consummated, politically, with the transfer of the last divisions of the administration of Cabo Delgado to Pemba (then called Port Amelia) in 1929.
The Qurimbas archipelago consists of about 32 islands, including Ibo, Matemo, Medjumbe, Quirimba, Metundo, Quisiva, Vamizi Island and Rolas Island all going up to the Tanzanian border. The Quirimbas National Park, spanning an area of 7,500 square kilometres (2,900 sq mi), includes the 11 most southerly islands, which are partly surrounded by mangroves. The park was established in 2002 as a protected area
Super-Talented Zimbabwean Inventor, Sangulani Chikumbutso Showcases His Inventions
A Zimbabwean inventor is showcasing various  technologies and solutions that are putting Africa on the global technological map. All over Africa, a lot of talented and creative people abound and are not afraid to showcase their wonderful innovations. A Zimbabwean man identified as Sangulani Chikumbutso, has made several inventions, including a hybrid helicopter, a drone and an electric car. He made these inventions through his company, Saith Technologies. In 2015, Chikumbutso, who dropped out of school at Form 2 level, showcased several of his prototypes. Check the photos out below.
South Africa – Jubilation As Jacob Zuma Survives Vote Of No – Confidence
The South African president, Jacob Zuma, has narrowly survived a motion of no confidence against him in parliament, the most serious attempt yet to unseat him after months of growing anger over allegations of corruption and a sinking economy.
It was the sixth such vote of his increasingly beleaguered presidency, but the first involving a secret ballot, with a broad coalition of opposition parties and renegade MPs from the ruling African National Congress (ANC) falling just short of the simple majority needed to force Zuma and his cabinet to resign immediately.
The ballot counting was accompanied by scenes of singing and dancing on both sides of the assembly, as rival parties sought to project confidence. "We taught you this song, and you don't even sing it properly," jeered the opposition Economic Freedom Fighters leader Julius Malema, dressed in signature red overalls, addressing his ANC counterparts.
The South African president, Jacob Zuma, has narrowly survived a motion of no confidence against him in parliament, the most serious attempt yet to unseat him after months of growing anger over allegations of corruption and a sinking economy.
It was the sixth such vote of his increasingly beleaguered presidency, but the first involving a secret ballot, with a broad coalition of opposition parties and renegade MPs from the ruling African National Congress (ANC) falling just short of the simple majority needed to force Zuma and his cabinet to resign immediately.
The ballot counting was accompanied by scenes of singing and dancing on both sides of the assembly, as rival parties sought to project confidence. "We taught you this song, and you don't even sing it properly," jeered the opposition Economic Freedom Fighters leader Julius Malema, dressed in signature red overalls, addressing his ANC counterparts.
Baleka Mbete, the National Assembly's speaker, announced the result: 198 MPs voted against, compared with 177 in favour. There were nine abstentions. "Therefore the motion of no confidence in the president is accordingly negative," declared Mbete.
ANC MPs in parliament whooped and danced at the news.
An upbeat President Zuma arrived at the parliamentary precinct about an hour after the result was announced. "I've just come to say thank you to all of you. Those comrades who are in parliament needed the support from the membership. You came in your numbers to demonstrate that the ANC is there, is powerful, is big. It is difficult to defeat the ANC, but you can try," he said.
He then gave a rendition of Yinde Lendlela, his signature tune. The title translates from Zulu as "It's a Long Road", and the implication is clear: his journey is not over yet.
In the hours before Tuesday's vote, a series of coordinated protests across South Africa demanded Zuma's removal. A petition signed by more than a million people was delivered to the deputy president, Cyril Ramaphosa, who is seen as Zuma's main rival.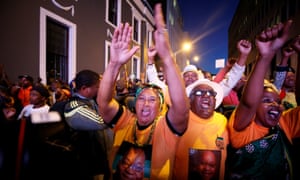 Zuma, 75, has never been far from scandal since he became president in 2009. Another major criticism raised during the parliamentary debate included allegations that he had allowed the state to be "captured" by the Guptas, an Indian business family that has been at the centre of a string of media exposés about graft in government and state-owned enterprises.
The no-confidence motion was brought by the Democratic Alliance (DA), the largest opposition party, in response a cabinet reshuffle in March, in which Zuma sacked the popular finance minister Pravin Gordhan. The president was playing "Russian roulette" with the economy, according to the DA leader, Mmusi Maimane.
"I never imagined that one day I would be here in this parliament fighting a new form of oppression," Maimane said during the debate on the motion. "A corrupt system that keeps our people imprisoned in poverty. If you told me that one day our democratically elected president would end up corrupted and captured by a criminal syndicate, I would have never believed you. But here we are."
In response, ANC MPs argued that the party remained united behind Zuma, and had set up internal processes to deal with accusations of corruption and poor governance. The no-confidence motion was dismissed repeatedly as an attempted power grab by the opposition.
"[The opposition] are using the constitution so as to collapse government, deter service delivery and sow the seeds of chaos in society so as to ultimately grab power … Shame on you!" said Doris Dlakude, the ANC's deputy chief whip.
Although Zuma has survived this battle, he is still fighting for his political future. His term as president expires in 2019 and under the South African constitution he cannot run again.
More immediately, his term as president of the ANC expires in 2017. He is lobbying hard to install the former African Union Commission chair Nkosazana Dlamini-Zuma, who is his ex-wife, as his successor. Opponents within the party are largely rallying behind Ramaphosa, although there are other names in the mix.
Despite the parliamentary defeat, Maimane hailed the close vote as a victory for the opposition DA. "Today's motion of no confidence result is closer than anyone expected. The result reveals an ANC that is totally divided against itself. Jacob Zuma has survived, but he has nothing to celebrate tonight. He is mortally wounded and his party is in tatters. Tonight's result, despite the slender victory, signals the death of the ANC," he said in a statement.
But outside parliament, where hundreds of pro-Zuma supporters were gathered, a celebratory atmosphere prevailed. The police minister, Fikile Mbalula, told the crowd. "We were inside [parliament], they said they're going to topple the president. But with your support, we have defeated them inside. There are those who have been asking [us to vote with] our conscience. We've got political conscience to keep the ANC in power forever, and that is political conscience … The African National Congress will survive!"
While the ANC, Africa's oldest liberation movement, and the president live to fight another day, there is little doubt that both are wounded by Tuesday's proceedings. "ANC MPs were ordered to vote to retain President Zuma. It looks like at least 25, possibly as many as 30, willingly defied that order. This looks like the first big sign of a possible rebellion against him in the ANC," said Stephen Grootes, a political analyst with Eyewitness News.
Zuma must also contend with a supreme court of appeal hearing on 15 September, which will decide whether to reinstate 783 criminal charges against him, including fraud, corruption and racketeering.
Namibia, Elderly Woman 79 Years Old Dies After Being Tortured By Three Men
A 79-year-old woman died yesterday after she and her husband were viciously attacked and tortured in their Swakopmund home by three men.
The couple were tied up, while the woman was hit in the face and choked.
The attack happened between 08:00 and 09:00 in Richthofen Street, Swakopmund.
One suspect has been arrested. By late yesterday afternoon the police were still on the hunt for two more suspects.
According to a police spokesperson, Deputy Commissioner Edwin Kanguatjivi, three men forced their way into the house through the kitchen door.
Kanguatjivi said the men demanded safe keys from the woman, tied her up and choked her.
When the three suspects moved into another room, apparently looking for a safe, the woman's husband came out and was knocked over the head. He was also tied up and assaulted.
The three men fled and from what could be established nothing was stolen.
The woman was taken to hospital and later died from her injuries.
According to reports the husband identified one of the suspects as a former employee. This information led the police to the suspect's house, where he was found washing his clothes and cleaning mud from his shoes.
The shoes matched footprints found at the house.
ELLANIE SMIT
Namibia – Angola Promises To Pay $2.6 Billion Owed To Namibia
Windhoek-Angola has promised to honour its outstanding N$2.6 billion financial obligations to Namibia in a 2015 currency conversion agreement that saw Angola unable to pay over on time the billions owed to Namibia.
The governor of Angola's central bank, Banco Naçional de Angola (BNA), Valter Filipe da Silva, promised President Hage Geingob that despite the ongoing economic challenges facing his country, Angola would continue to honour its repayment schedule.
Accordimg to Bank of Namibia deputy governor Ebson Uanguta, BoN received about US$51 million (approximately N$661 million) from the BNA last week.
"There are still four payments to be done. Two will be done this year and two will be done early next year. What is remaining now is slightly an amount of about US$200 million (N$2.6 billion)," Uanguta said, emphasising that all payments made by the BNA were as per the payment schedule.
Da Silva visited Geingob at State House on Friday, where he revealed that the traditionally oil dependent Angola is on a major drive to diversify its economic portfolio and is looking to its neighbours to assist in venturing into alternative yet sustainable industries.
In response, President Geingob said although the currency conversion agreement was condemned by many, the agreement is worthwhile and will come in handy during financial difficulties in both countries.
The president further suggested that the two countries renegotiate the cement sales agreement which currently limits the amount of cement Namibia can export to Angola. "I know that southern Angola will need cement and we have to revisit this agreement," said Geingob.
The curency conversion agreement between BNA and Bank of Namibia aimed to address declining trade particularly at the once thriving trading hub of Oshikango. A shortage of US dollars, which contributed to the decline in trade, prompted the currency conversion agreement. At the beginning of 2017 the two central banks renegotiated the re-payment schedule for the approximate N$4 billion debt Angola owed Namibia following the currency exchange agreement that went wrong in 2015.
Da Silva said the ongoing oil crisis in his country is actually an opportunity to diversify its economy, specifically by strengthening bilateral agreements with neighbouring countries such as Namibia.
"Our ongoing economic difficulties can be overcome by focusing on agriculture and establishing and boosting our industrial parks," said Da Silva, who was accompanied by BNA board members.
Da Silva asked for assistance from Namibia to boost agricultural production, particularly in the meat processing industry where he requested an increase in the number of live animals to be exported to Angola as that country aims to limit the amount of beef it imports from other countries like their traditional trading partner Brazil.
Geingob further noted that all countries in the region can improve regional integration by adding value to their resources. Geingob said Namibia and Angola were "destined by fate" to be brothers and sisters.
"We will help each other overcome the fight for economic emancipation just like we did during the liberation struggle," said Geingob.
Da Silva also requested assistance to improve Angola's agricultural operations, saying Angolan and Namibian cooperation needs to be strengthened "because families in both countries depend on this cooperation".
Botswana – BMD Crisis, Boko Calls For Calm
The Umbrella for Democratic Change (UDC) says it will look into the Botswana Movement for Democracy (BMD) crisis before the end of the week after the two warring factions submitted their congress reports.
The UDC president, Duma Boko said yesterday; "I believe UDC will address the issue as quickly as possible. We could not act on the BMD matter because they had not invited us to do so. The reports from two camps were formally presented to UDC last week. All the concerned members would not sit when the matter is looked into."
He said before the real issues could start, both concerned members need to cool first.
Boko said since they got facts from those who were involved, then UDC would know where to start.
He stated that the constitution of any organization is a contract and one must conduct himself according to it. "We will not be dismembering anyone on this. The child must live and not be dismembered. My mission is to unite opposition parties not to divide it," he said.
Boko said he believes that the UDC had acted at the right time because if they involved themselves in BMD issues, then they could be compromised and they were going to fail to resolve the matter.
He said that is the reason why he has advised his party members not to be too involved on BMD issues and stop taking sides before they could even make investigation.
"I remained firm. The reason why I did so was because I cannot be a judge in a matter where I was too involved," he said.
The UDC constitution gives power to the national congress or the National Executive Committee (NEC) to suspend or expel a group member if it believes that one is acting against the interests of the Umbrella.
The group member may be expelled for failing to attend more than two consecutive meetings without apology acceptable to NEC or their failure to pay its group membership fees.  On issues of the Directorate of Intelligence and Security Services (DIS), Boko said there is nothing new, stating that intelligence agencies have always spied on opposition parties even during Sir Seretse Khama and Sir Ketumile Masire's era.
He said this should not come as a surprise to many since the Botswana National Front (BNF) has had cases and reports that were leaked during the time of special branch, the entity that preceded DIS.
"We have survived that and members should not panic, but rather conduct themselves in a manner that would help them to win against such intelligence. We should stay focused and know what we want to achieve as opposition parties," Boko said.
South Africa – Malema warns students 'Zuma will be in Dubai in 2019, not Nkandla'
Since the #GuptaLeaks began pouring through the gates, South Africans have been made aware that the Gupta's may very well end up being the catalyst that SAVES Zuma from facing charges and potential jail time. That may sound odd, how can Zuma's fellow criminals be the one that saves him? Surely their interactions would only help put him away? We'll tell you what, not if they help him move to Dubai.
While Zuma has denied that he "owns' a Dubai mansion, the #GuptaLeaks emails and EFF Commander in Chief Julius Malema, say otherwise.
With the EFF's 4th birthday on Wednesday, Malema and co addressed students at the University of KwaZulu-Natal.
"Zuma is going to stay in Dubai, he has a house in Dubai, the money that was supposed to pay for your [student] accommodation!"
Malema also warned the students that once Zuma has run away in 2019, they will be left in South Africa with the EFF. Check out the video from TimesLIVE below.